Calling a bike messenger for a fast and reliable delivery of documents or small packages is common in everyday working life. But as soon as real cargo is involved people fall back on traditional motorized messenger services. But why? We met Jérôme who is part of the Crow Cycle Courier Collective, and talked about a new and sustainable form of urban logistics.
Why did you choose the crow? As it is a very smart and resourceful animal that even shares knowledge?
That's a good questions, that unfortunately is rarely discussed up front! Added to the mentioned characteristics are velocity and strength, and the collective behaviour. Crows get by on their own but are tremendously capable of working in a team. They are quick learner with an adaptive food intake and can be found almost on every part of this planet; overpopulation is very rare and they find their bearings in all habitats.
An interesting historical observation: The more industrialization which was very harmful for nature proceeded, the worse the crow's reputation became: But the closer cultures lived or live to nature, the more highly or sacred their image of the crow is. In some indigenous tribes in Northern America the crow had the rank of the highest deity, it was and is the guardian of the worlds and coherences and at times the power to freeze the sun!
Your courier collective is an "agency for sustainable urban logistics".
This small caption is important for us. As a reminder of where we are are heading and to extravert our vision. We love our profession but we want to evolve. Waiting passively for commissions is not enough for us. We aim at leaving a lasting impression on the city's logistics. Many companies with logistics in their core business are surprisingly unconcerned about it. They simply order one of the big logistics provider in the confidence that everything will go well. And we all know how well that sometimes goes! Not to mention the ecological footprint. Crow wants to be on hand with help and advice, and jointly develop new concepts for an urban logistics.
A close and constructive collaboration?
Exactly, this is our main priority! We want to form a relationship with mutual trust where both sides focus on a collaborative development, experiment what is possible and what is not, and how we can improve it? Our approach is not to know everything better and then always act like that. We provide a customized service which is very well received.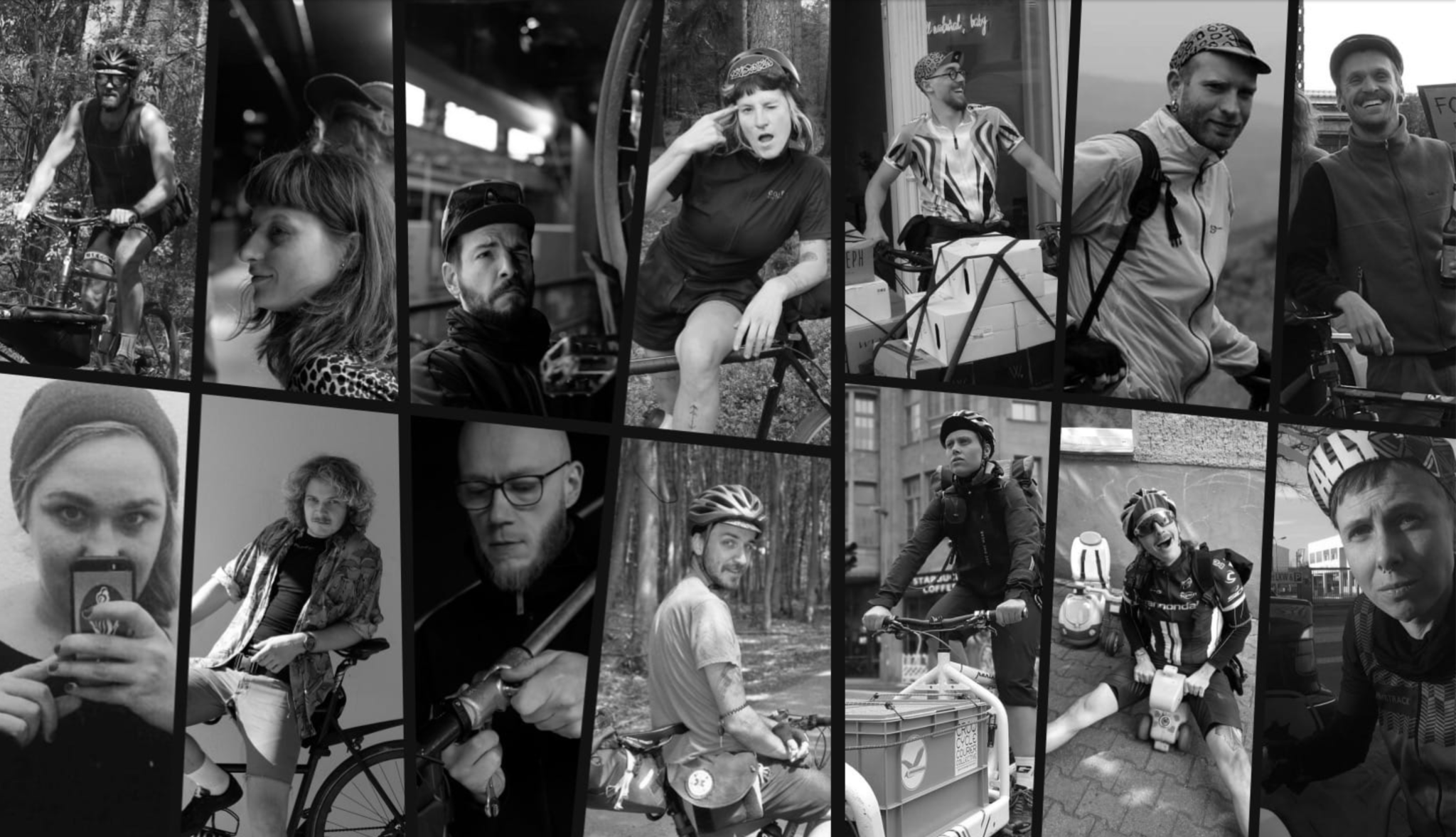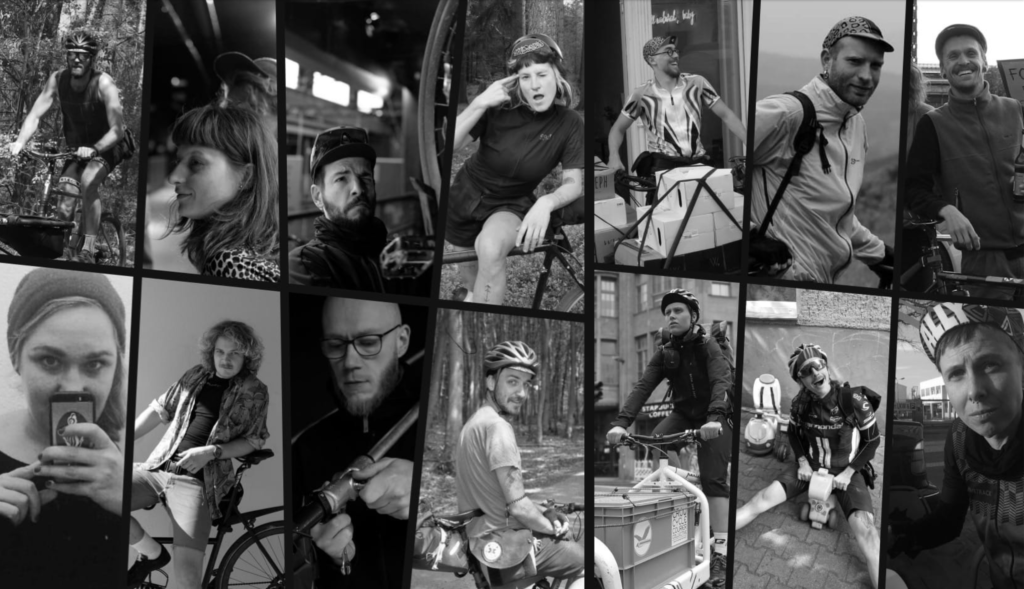 "Cycling is everything to us: sentiment, freedom, being together with other people, training, pain, being in contact with our surroundings, awareness, antennas, fun, sunburn, woods, outings, technics – this could be an infinite list…
How does running a business as a collective work?
First is means that we manage Crow jointly and make decisions together. There is no hierarchy or de facto management. We operate our project through working groups. They have certain authorities and thus freedom to act, but in our collective each member has a veto power. If a veto can not be cleared out nothing goes further: no one will be overlooked or ignored. We want to realize the best ideas and not those from who is the most influential. Like this we maintain a good dynamics.
What are your advantages, especially in urban territory?
The list of disadvantages would be shorter: rain – that's it! But honestly: delivery vans and trucks, cars with only one person in it, this should long since be a thing of the past. That it is still common shows how backward und unprogressive our society is. Politics bows to the pressure of the car lobby even though the have the chance to improve the quality of living in cities for all their inhabitants many times over. This would lead to a more stable health system, less accidents, less violence… This could become a really long list, too!
How often to you have to debate that a bike transport is indeed possible?
Excellent note! Like every five minutes. We are positive that if people would begin to see and understand what is possible on a cargo bike we would have more commissions that current capacities. And this would give our riders more work – so give it a try, challenge us!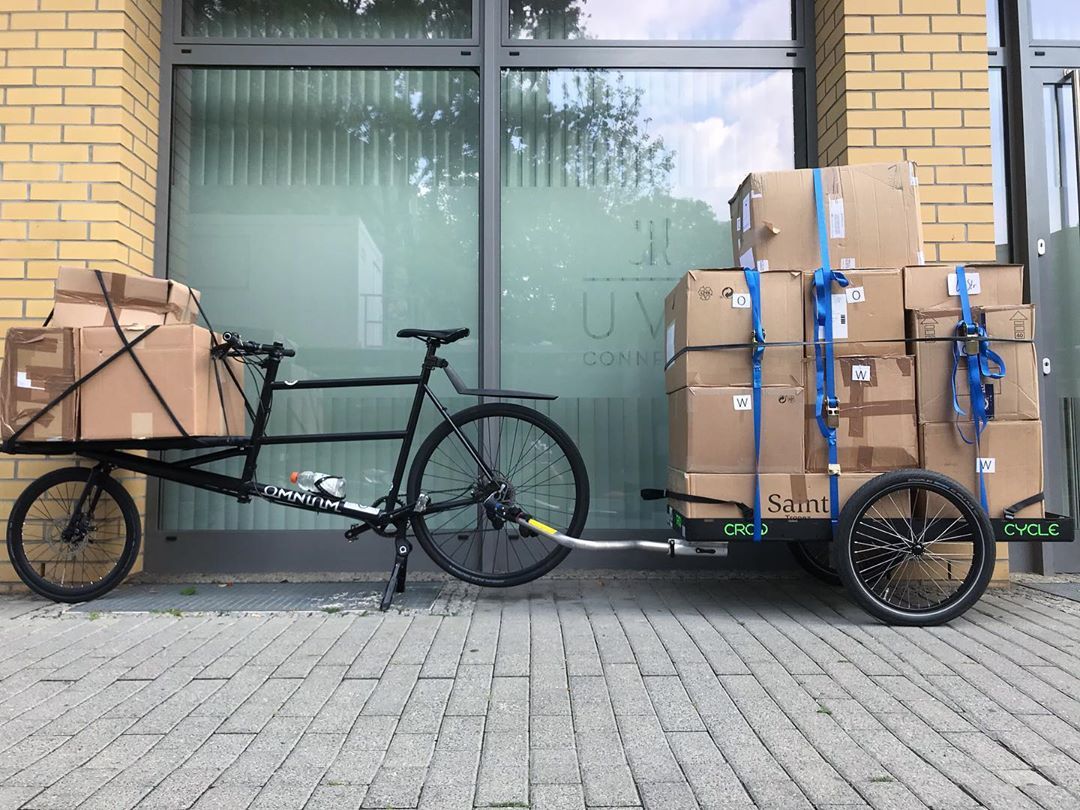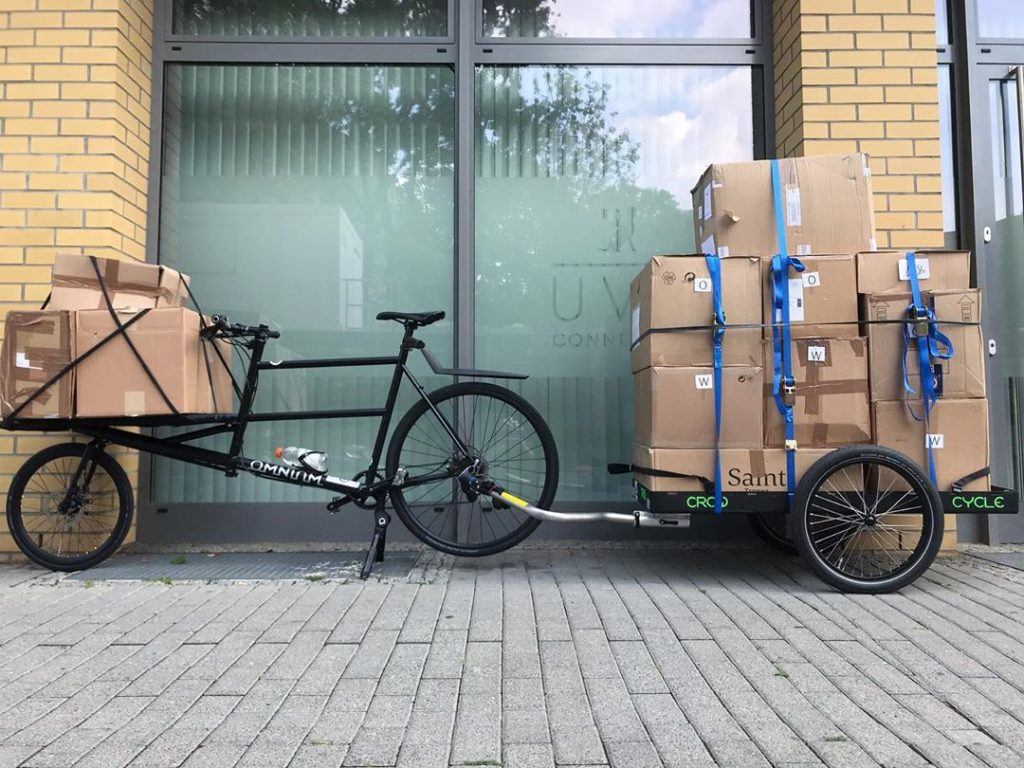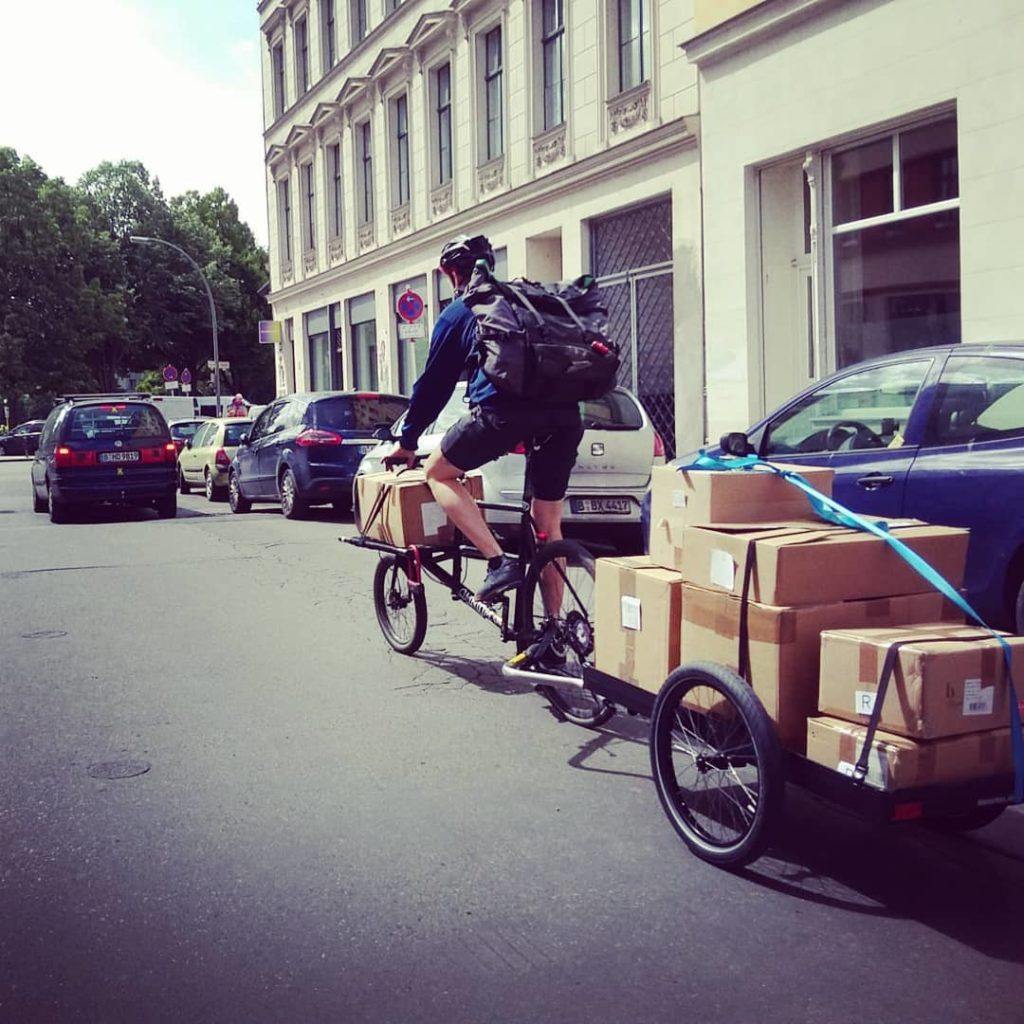 What was the biggest transport challenge so far?
Oh, there were a few milestones! Our first delivery of 120 bottles of wine ranks among our biggest, as well as my personal challenge with 95 kg of delicatessen, wrapped very bulky and delicate, that had to go 20 km without a trailer. And of course the classics as furniture, sofas, fridges and a maximum number of people…we are always testing and give it a honest try!
And where do you hit the wall?
We are currently working with bike and trailer with a maximal weight of 150 kg, simply because we have to get the required strength out of our legs. This can be maximized on the long run, but as long as we work without other drives this is the limit. But volume! We can transport almost whole houses…
Let us dream a bit: What can the city of the future be like?
It's a city of solidarity. A place that is formed and shaped by everyone – truly equal and solidary. A city where only those four state of the art cars drive that have no other choice; where a lot of free space and air and quiet prevails. No streets full of parked cars, but tree-lined streets with seating space. A city that is Nazi free and where sexual assault is a fright of the past. A city that reflects its diversity everywhere, a society of the many and of tolerance. And a city to which more and more animals come back, as it gets more and more beautiful.
A last word?
#leavenoonebehind!
Thanks Jérôme and have a safe trip!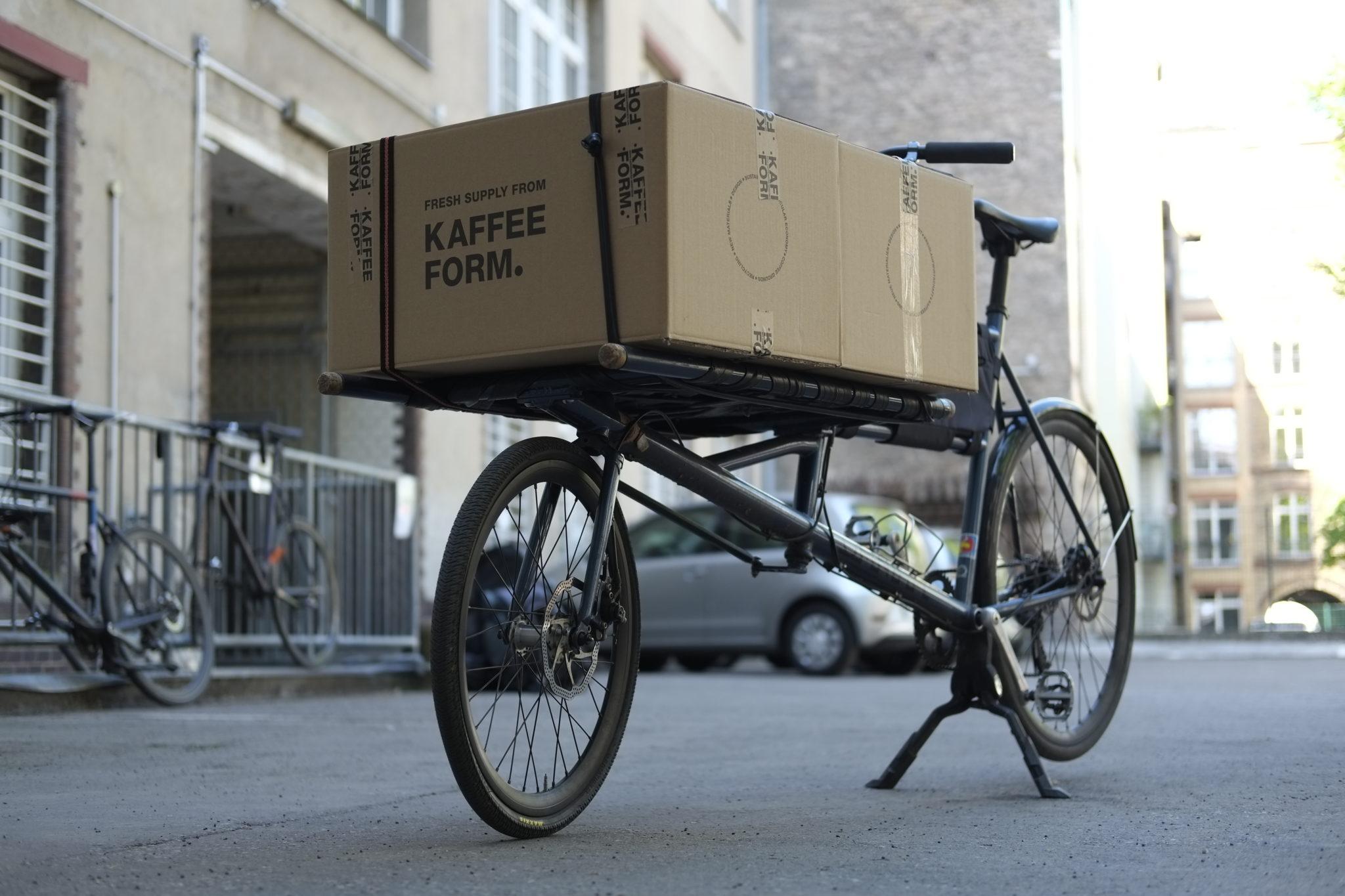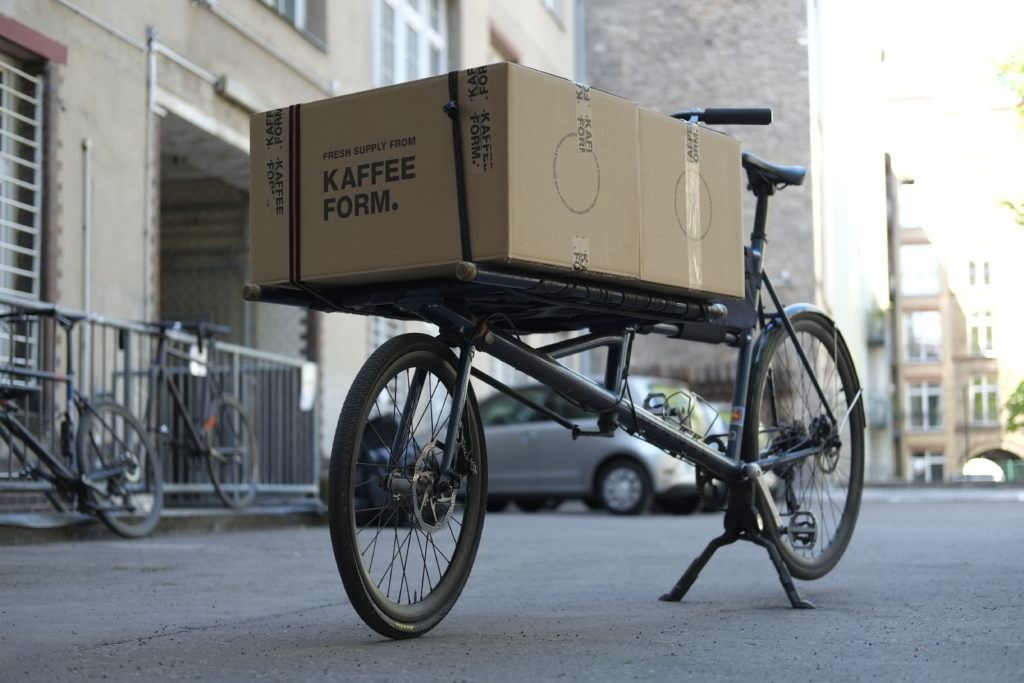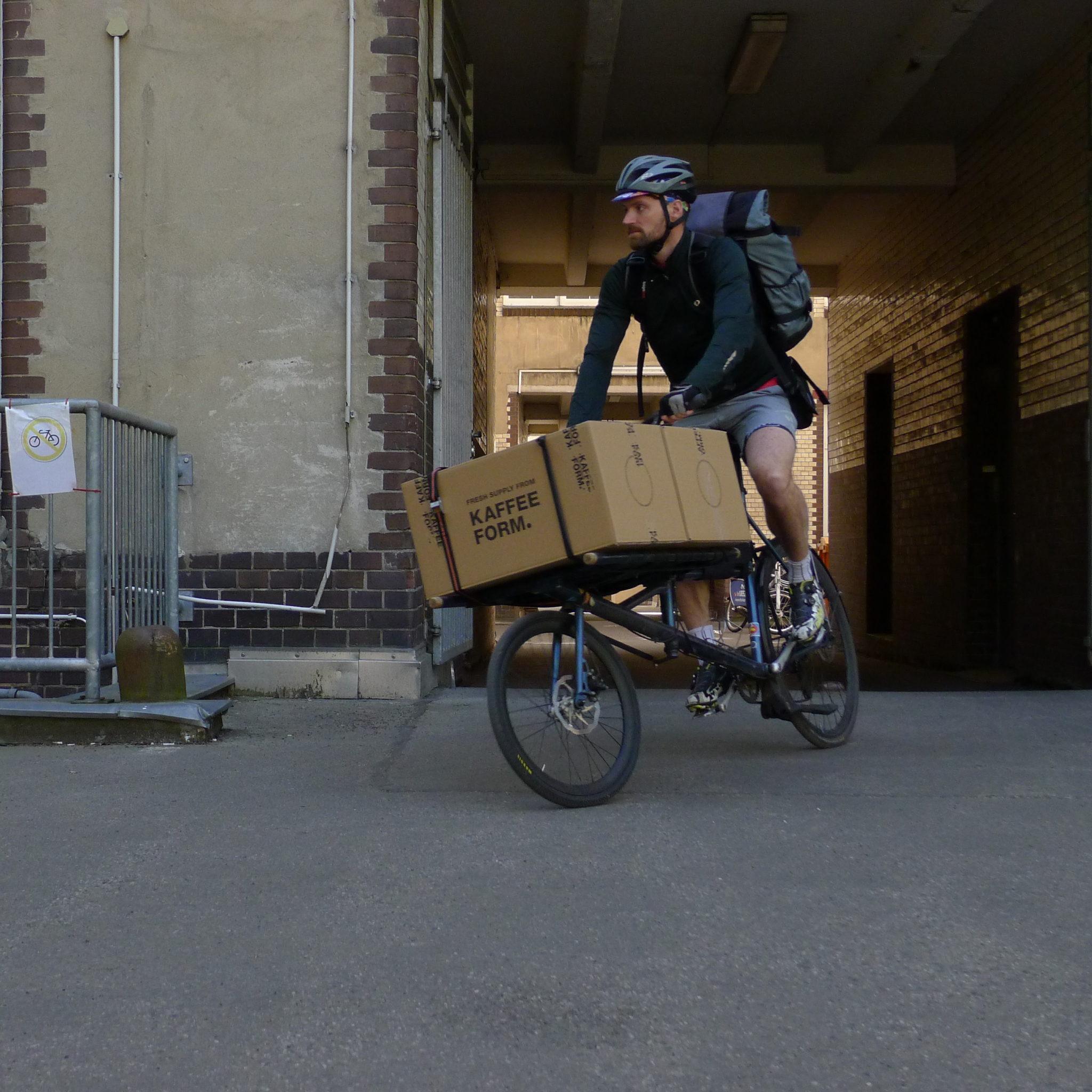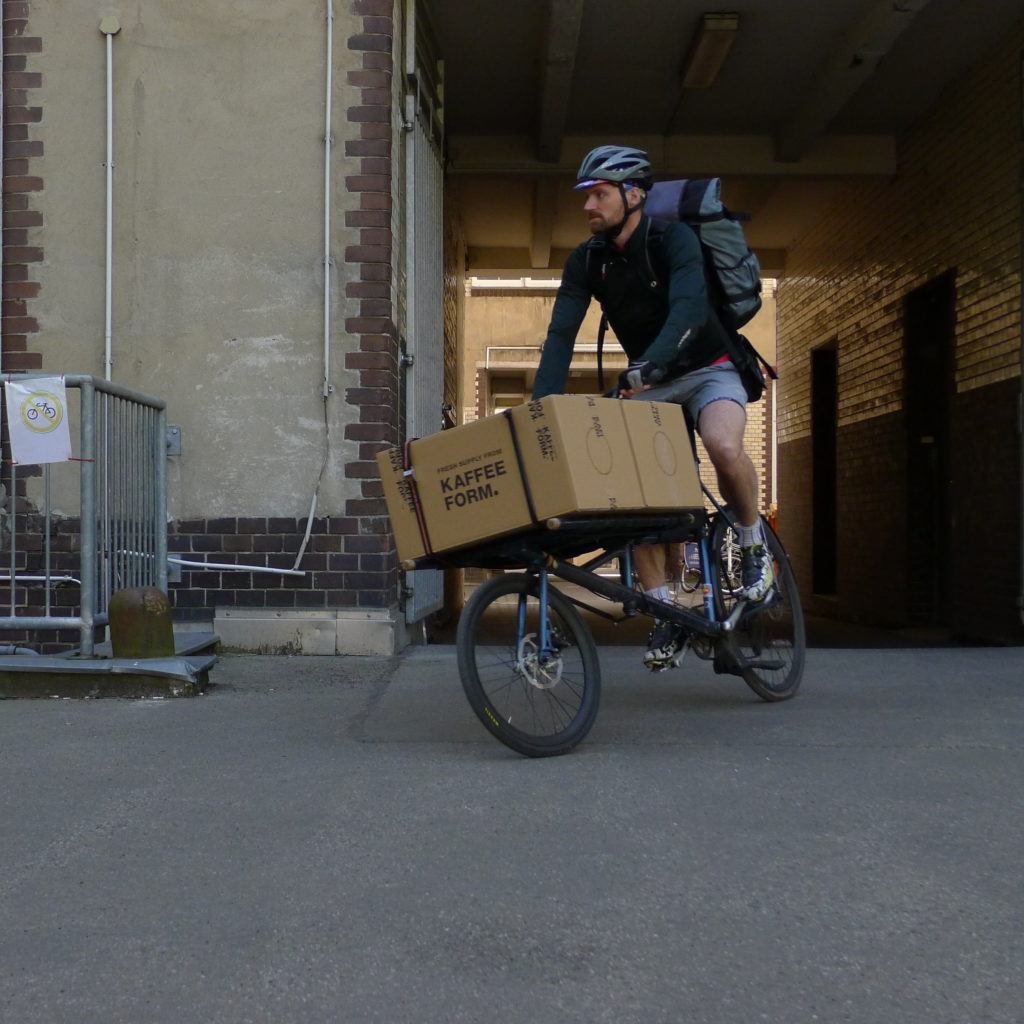 Kaffeeform has been working closely with Crow since the beginning, and they are collecting our main resource the used coffee grounds for us in Berlin! You can read more about how we work and our production here.
Images cc. Crow Courier Collective & Kaffeeform.